Pakistan recorded less than 4,000 Covid cases for the third consecutive day as 3,019 people tested positive for the virus in the last 24 hours, according to the National Command and Operation Centre data published on Saturday.
After a gap of three days, the positivity rate also dropped to 5.36 per cent during the last 24 hours.
With 44 new deaths of Covid across the country, the total fatalities of the virus reached 29,731 mark since the pandemic hit the country in 2020.
Currently, 1,640 patients affected by the virus are on critical care.
On Friday, Prime Minister Imran Khan chaired a high-level meeting to oversee the measures imposed to combat Covid.
The PM's Office, in a series of tweets, wrote about the details of meeting. The participants were informed that cases of Covid's variant Omicron were on a decline due to strict enforcement on the standard operating procedures across the country.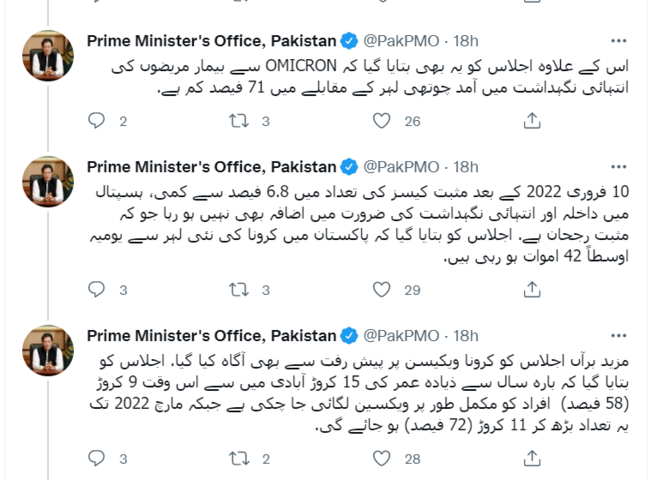 "The patients who are infected by Omicron and admitted in ICU are 71 per cent less than those patients who were in critical care in hospitals during the fourth wave of the Covid," the meeting was told.
It was also told that at least 58 per cent population above the age of 12 years have been fully vaccinated against the virus. And it was expected that this percentage would rise to 72 per cent by March 2022.
So far, at least 194 million doses, that included booster shots, have been administered across the country.
In a warning message, the Ministry of Health Services asked people to be aware of a scam in which people are receiving calls from landline number and they are being asked sensitive information, including their bank account details for vaccination.