Government officials at the Pakistan Embassy in Serbia have not been paid for the past three months, said a tweet by the embassy's official account on Friday.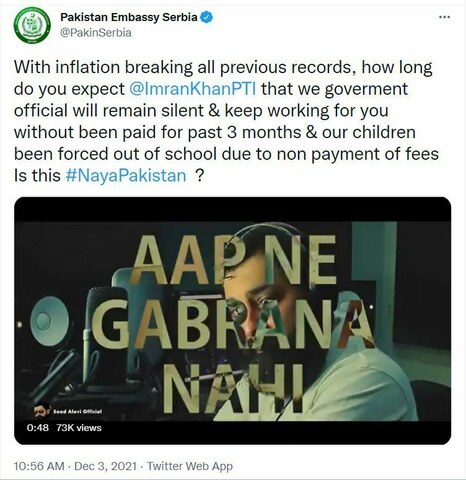 "With inflation breaking all previous records, how long do you expect Imran Khan (@ImranKhanPTI) that we government official will remain silent & keep working for you without been paid for past 3 months," said the tweet.
"Our children been forced out of school due to non payment of fees. Is this #NayaPakistan?" it added.
The tweet included a song by musician and songwriter Saad Alavi called, "AAP NE GHABRANA NAHI." The song, which first surfaced on social media in March this year, highlights the issue of rising inflation in a humorous manner.
"I am sorry @ImranKhanPTI, am not left with another option," said another tweet by the Pakistan Embassy Serbia Twitter profile.
Twitter reactions to the tweet have started pouring in.
The PM's focal person on digital media Arsalan Khalid tweeted the account was hacked and the Foreign Office would look into the matter.
This user can't believe it's a real tweet.
Many Twitter users are having a field day thanks to this tweet.
Podcast host Shehzad Ghias Shaikh said in a tweet that while it's shameful that embassy staff isn't being paid, it also wasn't right to tweet this from the Pakistan Embassy account.
In a related news, Ministry of Foreign Affairs spokesperson tweeted: "The Twitter, Facebook and Instagram accounts of the Embassy of Pakistan in Serbia have been hacked."
Messages being posted on these accounts were not from the Embassy of Pakistan in Serbia, it added.